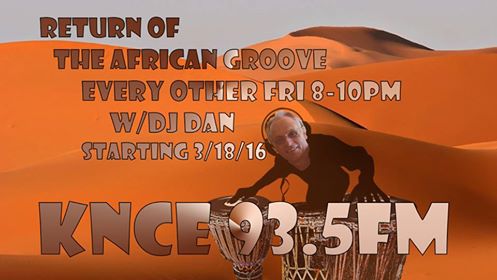 Alternate Fridays, 8pm – 10pm.
Traditional African music as well as popular club music both appeal deep down to our need to connect to the earth, to the drum,  and of course, to the beat! Put on your dancing shoes, or bare your feet; either way we're shaking it non-stop on "The African Groove."
"DJ Dan" Allard has been studying West African drumming for over 20 years and has studied and performed with master drummers from Mali, Guinea and Ghana. Since moving to Taos in 2003, Dan has taken over as the lead drummer for the West African Dance Class in Taos. The West African Dancers and Drummers from Taos have opened for The Refugee Al-Stars at Bataan Hall in 2006, and Oliver Mitikudzi at KTAOS in 2013, as well as headlining  in the "Shine on Sudan" Benefit concert at the TCA in 2007.
For more info see:
https://www.facebook.com/djiembefola
https://www.facebook.com/groups/710922915673522/
https://www.facebook.com/groups/281448881921458/
Comments
comments
This Show Can Be Sponsored By YOU!:
Contact sales@truetaosradio.com for more information on how to support KNCE 93.5.